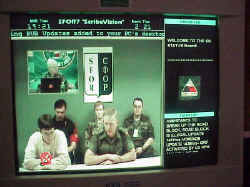 It can be truly stated that ScribeVision was officially born in the first few days of SFOR 7's MRE (Mission Readiness Exercise) in November of 1999.
The MRE was held at Fort Polk, Lousiana, and was the culmination of more than a year of preparation by soldiers deploying to Bosnia.
In the months leading up to the MRE, I had developed and fine tuned a tactical web web simply called SFOR7 Web. The web was a lean application designed to provide quick access to critical mission information such as phone listings, SITREPS (Situation Reports), Fragos, IMPINs and G3 Ops log files.
As an added twist, all of the laptops used in training simulations had been configured with the tactical web page installed as an "Active Desktop" component. (See "Before ScribeVision There Was Active Desktop").
I arrived at Fort Polk a few days before the official start of the MRE with plans to support the same web site. Upon my arrival, however, a new wrinkle was added.
G3 Operations requested some way to display some of their operational data on a large projection display system installed in the corner of the BUB training area.
The data consisted of reports called "Event Logs" and "Status Logs" and other operational information. Most of the information was created in the form of PowerPoint slides.
Going to work, the basic design of ScribeVision was completed in less than a day. I created a framed web page that was hard coded to fill the 800 by 600 pixel resolution of the large screen in the BUB.
The web page consisted of two small frames on the right side of the screen that utilized the same scrolling text java applets I had used on the 49th Armored Division web site and the SFOR 7 Web.
On the left side was a large frame that simply linked to a PowerPoint slide show to loop through a series of G3 slides. At the top left of the screen was a frame containing java clocks displaying the current time at Fort Polk and Bosnia. This frame also contained the name "SFOR 7 ScribeVision ".
I had used the term ScribeVision because I received no guidance as to what to call the web page. The name stuck.
Over the next couple of days I continue to tweak ScribeVision to prepare for the official start of the MRE. I experimented with different fonts, text colors and sizes to make the information as readable as possible on the less that optimal viewscreen.
By setting the web browser (Microsoft Internet Explorer) to display in "full screen" mode with the toolbars in "autohide", ScribeVision looked like something more than a large web page.
It developed a high tech look that attracted the attention of anyone entering the training BUB.
G3 Ops was now empowered to update ScribeVision by simply updating and resaving their PowerPoint files and editing the scrolling applet text files with Notepad.